Microsoft Silver Partner for small and midmarket cloud solution
Ivy IT Solutions are pleased to announce that we are now official Microsoft Silver Partners for Small and Midmarket Cloud Solutions. Ivy IT Solutions will work with you to achieve the results that you want from your Office 365 or other Microsoft cloud solutions.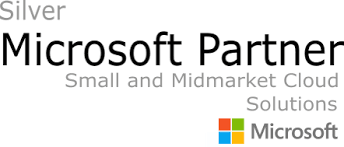 What Does This All Mean for Your Business?
Did you know that cloud-based computing can boost your staff productivity, protect your sensitive business data from being lost in worst-case disaster scenarios and assists greatly with GDPR Compliance?
Many businesses are now implementing services through the cloud to gain more than just better mobility.  Cloud Solutions also help your business to be re-active on a month by month basis adding staff to quickly expand or reducing to streamline processes.
Cloud solutions are shortening the technology gap between small and large businesses since it enables users to leverage enterprise-grade solutions at small business prices.
This all sounds great, but I don't know where to start?
Ivy IT Solutions can advise and guide you through the process of acquiring the correct service level and software combination.  Then we can move your data, apps and emails to cloud. By moving your vital data to the cloud, you will be able to enjoy greater security, an increased accessibility, and lowered costs.
Instead of buying expensive licenses for software that quickly becomes out of date we can supply software and services on a month by month subscription giving you the latest software.
With our expert help, you won't have to worry that any files or emails will be missing in your new cloud setup.
For more information
about our support please call
01892 668611
07979 670257
For more information
about our support please call
01892 668611
07979 670257